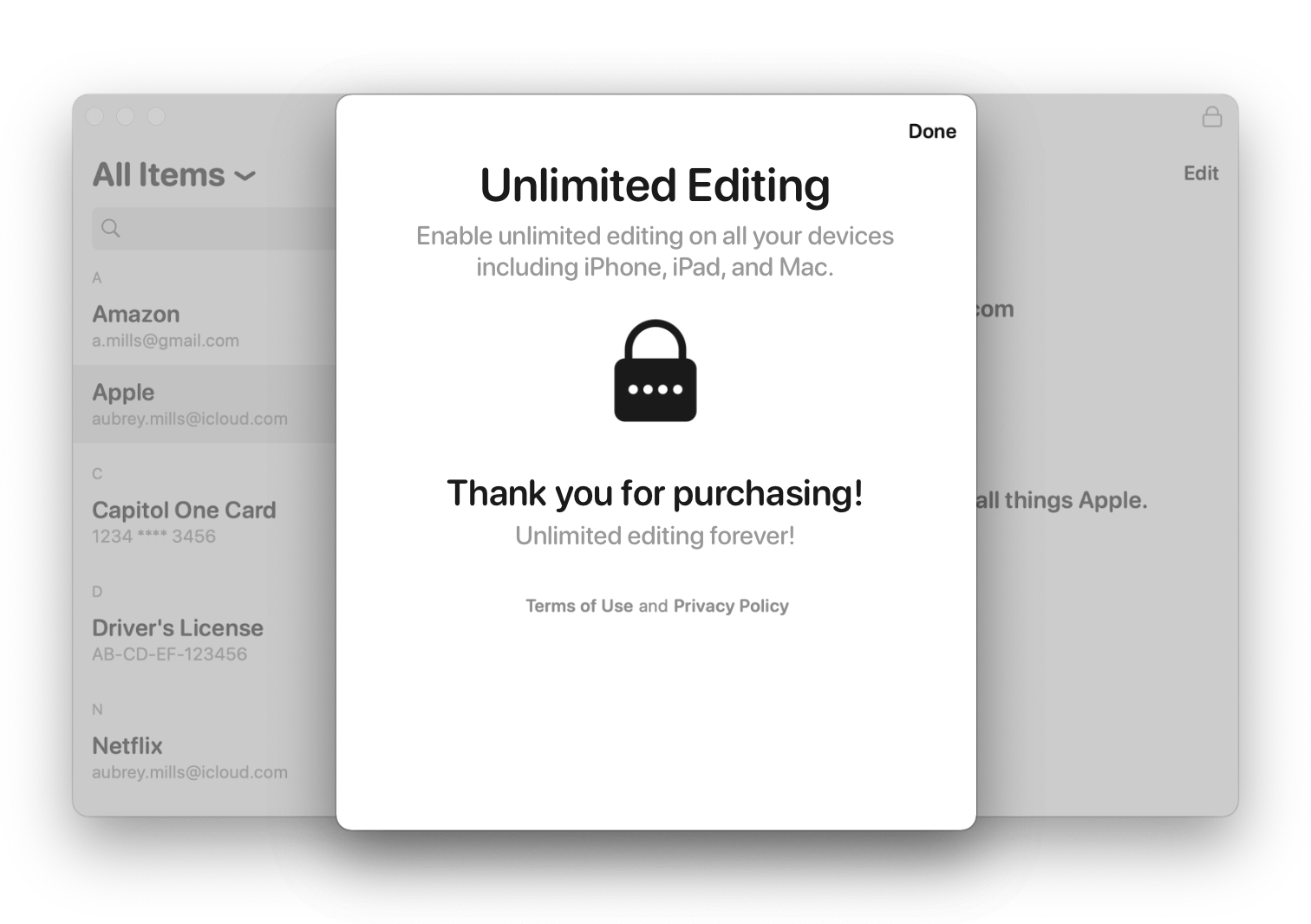 Pay Once with One-Time Purchase
Tired of subscriptions? Yeah, we get it. Minimalist offers One-Time Purchase for iPhone, iPad, and Mac.
Choose The Purchase Option That's Right For You
It seems everything is moving to a subscription model these days. However not all of us are comfortable with subscriptions. That's why Minimalist offers a One-Time Purchase along side an Annual Subscription. Choose the purchase option that's right for you!
Try Minimalist For Free Forever
Minimalist is free to try with editing limited to 10 items. There is no time limit and no need to enter a credit card or agree to a subscription. Simply download Minimalist and start adding passwords. This free mode never expires so you can take your time to make sure Minimalist is right for you before purchasing.
Try Unlimited Editing For A Year
Minimalist offers an Annual Subscription for people wanting to try Unlimited Editing before committing to a One-Time Purchase. Simply start an Annual Subscription and then immediately turn off auto-renew. You'll have an entire year of Unlimited Editing to make sure Minimalist is right for you.
All Purchases Are Family Purchases
We share everything with our families. Love and laughter, food and vacations, income and expenses. Everything. That's why we've enabled Apple's Family Sharing on all Minimalist purchases. Now all purchases are family purchases.
Questions? Suggestions? Feedback?
We're on a mission to make Minimalist the best password manager for iPhone, iPad, and Mac. We'd love to hear from you!
Start Loving Your Password Manager Again
Try Minimalist for free with editing limited to 10 items. No credit card or subscription required. Never expires.