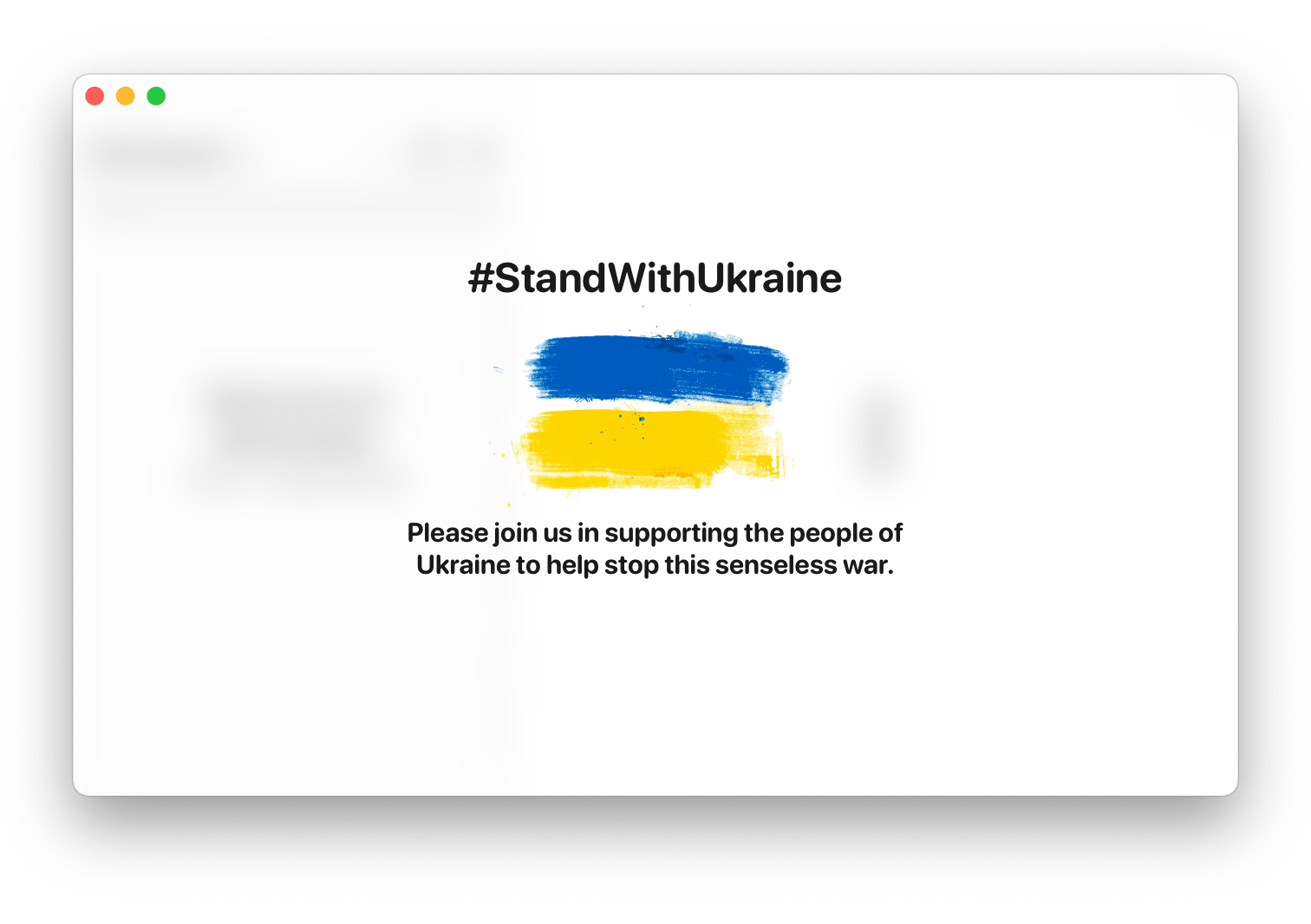 We Stand With Ukraine 🇺🇦🇨🇦
In light of the atrocities being committed against the people of Ukraine, we have decided to do everything in our power to show our support and help stop this senseless war.
We strongly encourage individuals and other companies to do the same.
Donations
We are donating a portion of all sales to support humanitarian aid in Ukraine via the following organizations:
We chose these organizations with help from Charity Intelligence Canada, which we have also donated a small portion to.
Temporarily Free in Ukraine, Russia, and Belarus
We have temporarily removed all limitations from the free version of Minimalist for people inside Ukraine, and for our friends inside Russia and Belarus who actively oppose the war and need protection from their own government.
Please know we thought long and hard about this decision, particularly regarding Russia and Belarus.
At one point we considered pulling Minimalist from the Russian and Belarusian App Stores all-together. However we considered the many people who have reached out to us from these countries describing the dangers and difficulties of living under an authoritarian regime with whom they disagree.
These people are risking their safety, freedom, and even lives in order to share the truth about what the Russian government is doing in Ukraine, a truth that is being systematically hidden from them. We simply cannot turn our backs on these people.
Instead we believe the best thing we can do is help them stay safe. Help them share the truth about what their government is doing in Ukraine. Help them organize to protest this war. Help them fight from the inside.
We understand this may be a controversial decision. We will continue to re-evaluate and not hesitate to reverse course if warranted. Please let us know what you think at hello@minimalistpassword.com and we'll be happy to discuss.
An Open Letter to the Government of Canada
We have joined a growing list of Canadian companies urging the Canadian Government to take even bolder actions against Russia, Putin, and his enablers.
Here is an open letter we've sent to Prime Minister Justin Trudeau, Deputy Prime Minister Chrystia Freeland, and Minister of Foreign Affairs Mélanie Joly:
========
Dear Prime Minister Justin Trudeau, Deputy Prime Minister Chrystia Freeland, and Minister of Foreign Affairs Mélanie Joly,
We want to express our deep sorrow, concern, and apprehension over the situation in Ukraine. We, like so many Canadians, have an undeniable urge to do all we can to support those who are suffering.
We thank the Government of Canada for its actions in taking a stand against this senseless war. Please know you have our full support to stand with the people of Ukraine. We are writing to encourage you to be even bolder:
We endorse and encourage increased sanctions against Russia, Putin and his enablers. Please implement the most stringent measures you are capable of, knowing that the Canadian business community is committed to complying with them.
We would like to see a significant effort to help the people of Ukraine through increased humanitarian efforts on the ground and expedited immigration for those seeking asylum. It is good policy, helps families in need, builds the character and strength of our country, and is simply the right thing to do.
We pledge to do what we can to support you in isolating Russian leadership by unwinding commercial relationships and divesting Russian holdings. We ask that our government pledge to do the same.
We stand with the brave citizens and leaders of Ukraine who are defending their homes and our values.
In solidarity,
Jeffrey Fulton, CEO of Minimalist Software Inc.
========
This Affects Us All
We are incredibly fortunate to live in Canada. Through no doing of our own, we have been afforded numerous luxuries for which we are deeply grateful, but ultimately can go without.
We have been deeply moved, sometimes brought to tears, by the stories and images coming out of Ukraine over the last many months.
As a result, we feel compelled to do everything in our power to help, and we strongly encourage individuals and other companies to do the same.
In solidarity,
The Minimalist Team
Questions? Suggestions? Feedback?
We're on a mission to make Minimalist the best password manager for iPhone, iPad, and Mac. We'd love to hear from you!
Start Loving Your Password Manager Again
Try Minimalist for free with editing limited to 10 items. No credit card or subscription required. Never expires.